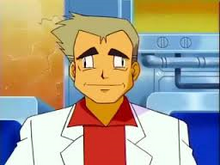 Professor Oak (known by his accountants as Prof. Broke) is a diseased maniac who equips
Twelvies
to "research" Pokemon. He originally thought of this in 1952 when it was natural for children to run out into grass full of dangerous creatures. His plan however, failed miserably when all he got was 1200
Charizards
and
some other useless Pokemon
but to this day, he still employs Twelvies to kidnap Pokemon so he may stare at them.
His hobbies include staring at Pokemon, trying to figure out how Pokemon speak through Roselia Stone and trying to figure out if his neighbor is a boy or a girl. He has trouble doing this, so Justin Bieber is an absolute mystery to him.
He is treasurer of the Creatures That Like to Watch Bidoof Sleep Committee.